Which Datebook is Right for Me
Finding a time management tool that works for your students can be difficult. With distractions all around them, students now more than ever need a way to keep track of tasks at school and at home. Planners are the best way to develop organizational skills in students but with so many planners on the market, how do you find the one that's right for you? Use the following characteristics to help choose the best datebook for your school! 
Grade Level
Do you need a planner for younger students? Large datebooks for primary and elementary students have plenty of space for students still learning how to write. Also, consider planners that include spelling lists and parent-teacher communication to further help students stay organized and keep everyone in the loop.
If you need planners for students in middle school and high school, look for datebook designs that include hall passes, weekly goals, and study tips to provide further assistance in each student's time management journey.
Specialized Content
Specialized content is a great way to develop habits that go beyond planning. Look for any of the following types of content to give students more specialized options to stay organized.
Social-Emotional Learning
Social-emotional learning themes are a great addition to your datebooks. These themes encourage social, emotional, intellectual, and physical growth in your students and promote positive learning environments.  
Choose the right social-emotional learning planner for your grade level: Primary, Elementary, Middle & High School. 
The 7 Habits®
Forming good habits from a young age is essential for your students. The 7 Habits® help students make good choices, set goals, build relationships, and learn how to take time to rest.
Choose The 7 Habits®  datebook for your grade level: Primary, Elementary, Middle & High School. 
Character
Help students develop strong character and learn important character traits. Character traits like trustworthiness, fairness, respect, and more, can build character and organizational skills in your students.
Choose the right character datebook for your grade level: Primary, Elementary, Middle & High School. 
Healthy
Health-related content encourages your students to make healthy decisions and form healthy habits in and out of the classroom.
Choose the right health-related datebook for your grade level: Primary, Elementary, Middle & High School. 
Well-rounded
Daily fun facts, vocabulary, This Week in History, study tips, and more encourage students to develop their planning and study habits throughout the school year.
School Datebooks offers a variety of well-rounded planners. Check out the most popular planner for your grade level: the Engage for primary students, the Create for elementary, the Telluride for middle school, and the Boulder for high school!
Features
When looking for your datebook, think about what features you want for your students. Features like hall passes, reading tracking, and parent-teacher communication are all great additions to your student planners.  
Hall passes in your planner pages can better help to monitor student hall traffic. 

Reading tracking allows your students to keep track of what they've read each week.

Parent-teacher communication keeps parents, teachers, and students on the same page.

Personalizations
Adding customizations or upgrades to your planners can make your datebook better suited to the needs of your school and your students. Start by customizing your cover. Choose from Personalized, Window, Spirit, or Custom.
Personalized covers feature your school's name and mascot in black ink.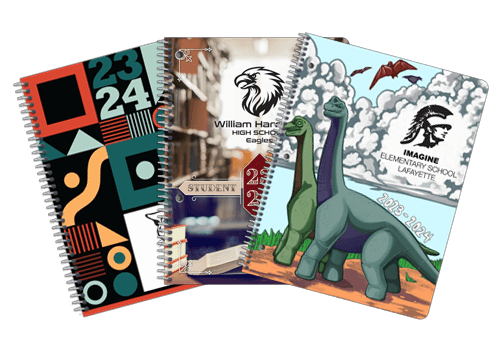 Window covers allow you to display your title page information when added to your planners.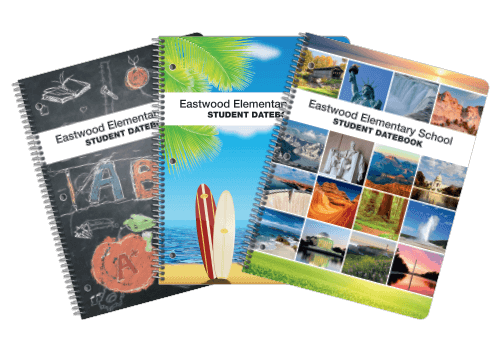 Spirit covers include your school's name and mascot or logo in one color. Choose from one of our 18 school colors or give us your custom color.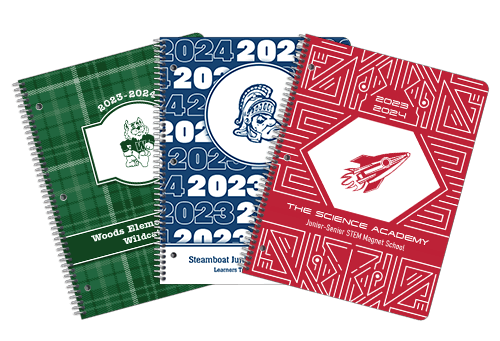 Custom covers give you the opportunity to choose a totally custom design or pick from one of our custom templates.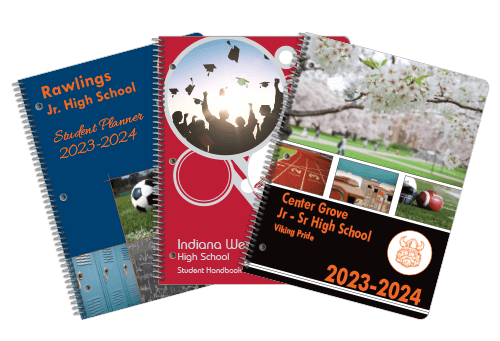 Add your school handbook in black and white or full color. Submit camera-ready handbooks for any of our Standard Line products or upgrade to a custom design datebook and we'll format it to fit into your book.
Not sure if you want to go with a Custom or Standard Line datebook? Custom-designed calendars are great for block scheduling, highlighting school events, and fitting any other of your school's needs. Custom datebooks also give you a choice of which reference pages you want to include to further help your students.
Looking for these characteristics in your datebook can help narrow down what planner is right for you. Still having trouble finding the one? Use our Product Finder to help guide your decision. If you've found the datebook design for your school but want a quote before committing, request a QuickQuote today!